Help us in congratulating Parker McBride, as he is honored as a Scholar Athlete by the National Football Foundation!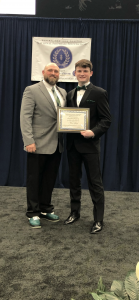 "We are very proud of Parker's accomplishments on and off the field," said varsity football head coach Rob Piascik. "He embodies what it means to be a Weedsport Warrior."
The award recognizes Parker as not only an outstanding football player, but a vital member of the Weedsport community. Award recipients must have a grade point average of at least 3.2, show outstanding skill on the field, and demonstrate strong leadership and citizenship.
Parker was honored during a ceremony at the Carrier Dome on April 3rd. Great job, Parker!