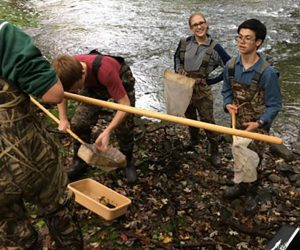 The approximately 60 students in John Lawler's living environment class at Weedsport Jr.-Sr. High School have been getting hands-on experience through various scientific investigations since the first week of school.
Lawler separated students into groups where they're planning and implementing an investigation that culminates with a scientific paper due in February. The topics include the effects of land cover on Owasco Lake tributaries, a blue green algae population study of Cayuga Lake, and the effects of the city of Auburn landfill on the water quality of the Owasco inlet.
All of the students will participate in an evaluation of the Putnam Brooke watershed.
All of the projects require students to be out in the field collecting data. For the Putnam Brook watershed (which is located on campus), students implemented the investigation by using the Finger Lakes monitoring program which involves a macroinvertebrate biotic index, physical parameters, and water chemistry.
"Students really get to hone their scientific inquiry skills," Lawler said. "The students are also reinforcing their skills of working in groups and investigating."
Additionally, about 10 students on the district's Environthon teams have helped each group with data collection.