Rudolph the Red-Nosed Reindeer, Jr. will premiere at the Jr.-Sr. High School this weekend!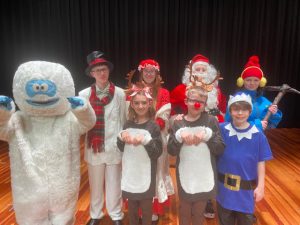 More than 40 students in grades 5-8 have been working hard to put on this classic musical. You can catch the show on Friday, December 2nd and Saturday, December 3rd at 7 p.m.
If you don't have a ticket yet, there's still plenty of time to buy one! They're just $5, and can be purchased in the reception area of either school (during school hours). You can also purchase tickets online by following this link.
If you'd like to read more about the time and dedication that went into making this show a success, click here.