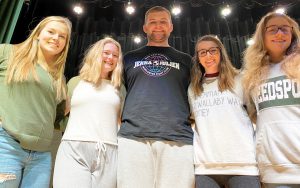 Five Weedsport Jr.-Sr. High School students selected to perform in the treble and mixed chorus at the 2020 Senior High School Area All-State Music Festival at Ithaca College on Jan. 31 and Feb. 1.
The selections for the treble chorus include Ann Benson, Sydney Manchester, and Olivia Rudick. The members of the mixed chorus are Garrett Sevier and Emma Grieco. Aaron Brown was selected as an alternate.
The students were chosen for their high New York State School Musical Association (NYSSMA) scores and musical accomplishments.
"This is a huge honor and they should be very proud," said music teacher Rachel Kerr.