As the Cayuga County construction project continues around the village of Weedsport, the District has received an update on its progress. Crews have finished milling the road and are moving onto shoulder reconstruction this week. They'll be removing the existing shoulders and installing new subgrade, then they will begin paving the road later this week or early next week. Paving will take 4-5 days to complete.
You can expect one lane of traffic to remain closed as work continues, so give yourself an extra five minutes to get to school in the morning. The Department of Transportation allows construction crews to have people wait up to five minutes while work is being done.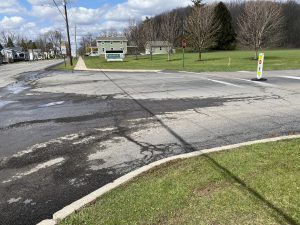 Another big part of this project is sidewalk reconstruction. The sidewalks leading from the village to the school would have already been finished if not for recent cold temperatures. The sidewalk work was temporarily suspended until temperatures rise again to ensure the concrete cures correctly.  Sidewalk work from the village to the school should be finished by the end of the week, depending on the weather, as there is a lot of rain in the forecast this week. Crews will wait to complete sidewalks from the school to the Erie Canal path until after the road is paved.
Crews are paying particular attention to paving and restructuring the mouth of the school entryway, to help improve drainage. Improvements are also being made in the village of Weedsport, where drainage structures are being replaced.