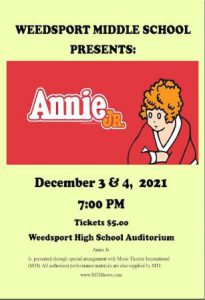 Looking for a fun, family activity to fill your weekend? Look no further! Tickets for Annie, Jr. are now on sale!
Annie Jr. will be presented by students in grades 5-8 on Friday, Dec. 3 and Saturday, Dec. 4 at 7 p.m. in the Weedsport Jr.-Sr. High School Auditorium.
The performance is based on the popular comic strip and adapted from the Tony Award-winning Best Musical, with a beloved book and score by Tony Award winners Thomas Meehan, Charles Strouse and Martin Charnin.
Annie Jr. features everyone's favorite redhead in her very first adventure. With equal measures of pluck and positivity, little orphan Annie charms everyone's hearts despite a next-to-nothing start in 1930s New York City. Annie is determined to find the parents who abandoned her years ago on the doorstep of an orphanage run by the cruel Miss Hannigan. Annie eventually foils Miss Hannigan's evil machinations, finding a new home and family in billionaire Oliver Warbucks, his personal secretary, Grace Farrell, and a lovable mutt named Sandy.
The show boasts a wonderful score including "Tomorrow", "It's a Hard-Knock Life", "You're Never Fully Dressed without a Smile", "Maybe" and many more! 
The cast includes: Annie (Leah Mettler), Warbucks (David Bracy), Grace (Avery Miller), Miss Hannigan (Megan House), Rooster (Samuel Platten), Lily (Alyssia Flynn), Drake (Jeremiah Lasher), Orphans (Lucy Hopkins, Mya Wells, Caitlin DeMarco, Sydney Elliott, Emma Amodei and Evelyn Erbeck) and a very talented Ensemble! The show is directed/produced and choreographed by Mary Buchmann with music direction by Joe Benedict. 
You can buy your tickets here. Please note, there are regular tickets and livestream tickets available.
PLEASE MAKE SURE YOU SELECT THE CORRECT OPTION WHEN BUYING YOUR TICKETS!
Thank you for supporting this great cast and crew!