You might notice a change next time you head to a home basketball game or volleyball match in the Weedsport Jr.-Sr. High School Gymnasium, as well as the swim meets in the pool. On your way into the gym or the pool, instead of being greeted with a paper program, you'll now find a QR code ready to scan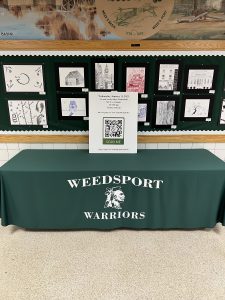 on your smartphone. The code will take you to the evening's program. For those who may not have access to a smart device, a paper copy can be requested from a chaperone on duty.
The Weedsport Central School District is on a mission this school year to cut down on excess printing costs. The District has decided to use the digital tools available to us, instead of instantly jumping to the conclusion that everything will be printed. Digital tools such as QR codes give us so much flexibility when it comes to planning future events and allow us to make changes to a document whenever needed.
Small changes make a big impact, and we also hope that continuously making decisions like these will help the District cut its carbon footprint and move towards an eco-friendlier future.