Weedsport senior Noah Hickok is being recognized for his musical talents! Noah has been chosen to participate in both the New York State School Music Association's 2021 All-State Performing Ensemble, and the National Association for Music Education's All-National Honor Ensemble.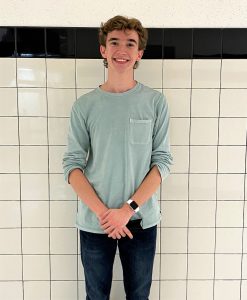 "It had been something I had been distantly hoping for, and the fact that it actually came to realization is pretty cool," said Noah.
The All-State performance will take place in Rochester on December 2nd through the 5th. Thousands of students auditioned for the honor. Noah said he must learn six songs, only two of which are in English, to perform at the show.
"It's a bit intimidating with how quickly everything has to be learned, but I am very excited," added Noah.
The first couple of days in Rochester will be spent rehearsing with the other students from across the state, to get on the same page and make sure all the little details of each song come together. The performance will be held at the Eastman Theatre.
The All-National performance, which brings together the best of the best high schoolers from across the United States, is being held virtually this year. Noah was asked to send in a recording, which will then be put together into a final performance.
Congratulations, Noah!