Weedsport Elementary students are topping off a successful month of donations with a sweet treat for the entire Weedsport school community!
Each year, Weedsport's Elementary Student Government Organization discusses ways to achieve a positive school climate and ways to help in our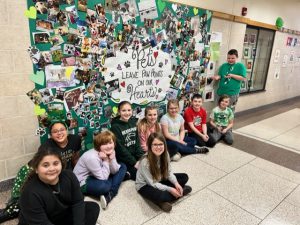 own community. This year's members were very dedicated to helping animals. After researching some local organizations and reaching out to Robin Axton, owner of Leo's Mini Donut Factory, ESGO students decided to hold a coin drive to support the Ellie McNabb Foundation and the High Rollers Club, both of which are dedicated to helping pets (and families of pets) in need of medical assistance and animals with special needs.
The "Coins for a Cause, Helping our Friends with Paws" fundraiser took place at Weedsport Elementary from February 20th through March 17th, and our students and staff raised over $2,000 to help animals in need! 
Throughout the month, the ESGO asked classmates to bring in donations, and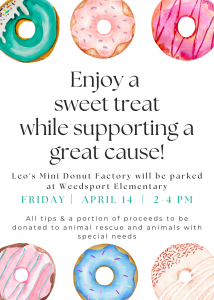 they planned some fun activities such as carrying a stuffed animal to school, wearing animal print, and bringing in pictures of their own pets, which were used to create a display for the entire school to see. They also used an incentive to increase the donations: the class to raise the most money would receive donuts from the Leo's Mini Donut truck!   
On Friday, April 14th, Leo's Mini Donut Factory food truck will be parked in the Weedsport Elementary parking lot from 2-4 p.m., supplying donuts to our winning classes. All students, staff, and families are invited to stop by after school that day to purchase these delicious treats. Along with our own fundraising efforts, Leo's Donuts donates all tips and a portion of their proceeds to animal rescue and animals with special needs. Please stop by on the 14th to support a great cause!