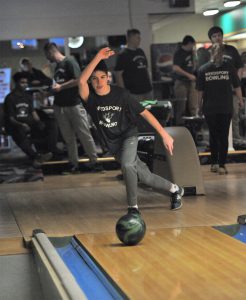 For the first time in about 40 years, Weedsport has fielded a bowling team. The 22-member team calls Rainbow Lanes in Weedsport home, and many students, parents and staff agree about the positive effects the team has had on the community.
Amy Nemec – whose twin sons Zach and Alex play on the team – says they will practice with their friends on Saturday night.
"They'll get a whole bunch of kids together and go on the weekends. It keeps them occupied with something that's positive, new, and different," she said.
"I also see the community coming it to watch the team bowl, and that's great. It's exciting and the kids are excited."
Below are what other members of the school/local community have said.
Zach Nemec, senior and member of the team: "It's fun because it's a new experience and has a different sense of pride," he said. "It's been great getting our friends involved. We can do it together and it's not that expensive. We go on Saturday nights and just have fun."
Coach Alex Veiga: "It has been a fun season so far and a really cool new experience for all involved," he said. "Each day we go in trying to improve our personal best, and the bowlers have really risen to the challenge."
Athletic director Zac Young: "We have students who have never participated in a sport at the school doing just that now, suiting up in green and white," he said. "A parent was telling me that this has really impact his son's lifestyle. They are bowling now socially on the weekends when they could be doing other things."
Ron Rizzo, owner of Rainbow Lanes: "The team has brought a lot more people in. The parents will come in and bowl with the kids," he said. "The kids are also coming in and bowling on their own. It's really working out well."
Superintendent, Shaun O'Connor: "This has been great for our kids and our community. We're also very happy to be able to partner with a local business for the benefit of many," he said. "It's also good to see something we put in last year's budget pay immediate dividends."