Congratulations to the Weedsport varsity girls cross country team for winning the Patriot League Championship for the first time since 1998! The team's dominant performance ended Tully's 22 year run as champions.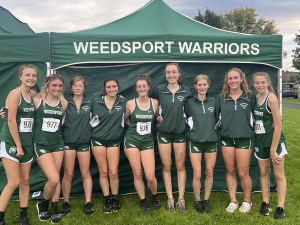 The girls had four first team all-league performers, led by Allison House in 3rd place at 22:06, followed by Sarah Carroll in 7th at 23:18. Olivia Snodgrass came in 9th at 23:29 and Zoyee Newton was 11th at 23:38. The Warriors also had four second team all-league performers. Meagan Fatcheric came in 16th at 25:18, Anna Kershner was 20th with 25:40, Kayla Clark 24th with 26:09 and Elena Amodei 26th in 26:22.
Congratulations also to the boys varsity cross country team, who placed 6th overall with 179 points. Tully won the meet by 45 points. The Warriors were led by Landon Kepple who finished 7th in 18:58, earning first team all-league status. He was followed by Evan Pollino in 47th at 22:14 and Forrest Nguyen in 51st at 22:30, both earning second team all-league.