A big congratulations to the student-athletes being recognized as athletes of the month for April. The athletes are listed below, along with a message from each of their coaches.
Jacob Maloof – Football
Jacob rushed for 284 yards during the season, while scoring 6 touchdowns.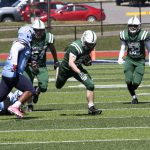 He also contributed with 17 tackles and an interception.  Jacob's top performance came against Bishop Grimes where he rushed 15 times for 187 yards and 2 touchdowns. 
Maurice Ahearn – Football
Reese rushed for 347 yards, scoring 6 touchdowns this season.  He led the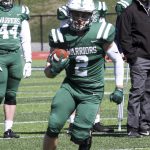 team to victory versus South Seneca when he rushed 8 times for 138 yards and scored 3 touchdowns.  Reese led the team for the season with 32 total points.
Trinity Davis – Volleyball
Despite missing the first three matches in the month of April, Trinity still led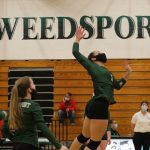 the team in serving efficiency, hitting efficiency, kills, and blocks for the month of April. In her first match back, Trinity helped spark a huge win at home against Pulaski recording 4 aces, 7 kills, and 2 blocks, all of which were team highs for the match.