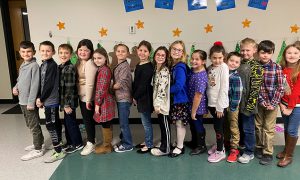 More than 10 third grade students from Weedsport Elementary have had their short stories selected for publication in the book, "Spooky Sagas."
Library media specialist Aja Hahn conducted a writing activity with the students in October and submitted the works for publication. When it's published, a copy of the book will be sent to the Library of Congress.
"It's great that the students are being recognized for their hard work," Hahn said.
"We talked about what a short story looks like and all the pieces, they put some planning into it, and then they started writing.
The students whose work will be published include: Alexis Arliss, Benson Bozeat, Lillian Carr, Evelyn Erbeck, Micah Fisher, Sadie Guzzo, Dominic Hopkins, Alexa Lee, Grayson McNabb, James O'Neil, Madison Schell, Jake Snodgrass, Carter Vallance, Giada Vincent, and Koree Lynn Lacy.