Former Weedsport music teacher Laura Woodworth was inducted into the Performing Arts Hall of Fame during the Performing Arts Hall of Fame concert on Monday, October 25th at 7 p.m. Woodworth taught for 37 years in the Weedsport School District.
"It is an honor to receive this award as it recognizes my career as a music teacher in the Weedsport Central School District," said Woodworth.
During her time with Weedsport, Woodworth directed the pit band and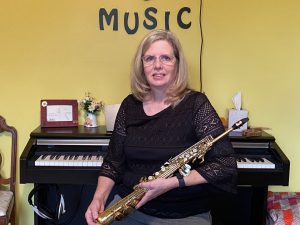 held many other music-related roles for multiple Weedsport High School musicals. She even helped with musicals at other area-schools. Laura has also been organist at the Weedsport graduation, served as marching band director, and Middle and High School Jazz Ensemble Director. Overall, Woodworth said sharing her love of music with all of her students brought her joy every day.
"Concerts were the highlight of all the hard work we put into rehearsing. Working with students and standing in front of each group was a joy for me," explained Woodworth.
Woodworth continues to perform with various community music groups, including the Auburn Civic Band, Skaneateles Community Band, Cayuga Sax and in a local ukulele/barbershop group called "The Four Seasonings."
She performed a soprano saxophone solo at the concert. Woodworth's accompanist is Melissa Zimmer Savitz, who is a Weedsport alumna from the Class of 1979, and was inducted into the Weedsport Performing Arts Hall of Fame in 2002.
Monday's concert also included the middle school chorus, middle school band, high school chorus, high school band, and high school jazz band. You can watch a recording of the show online through this link.