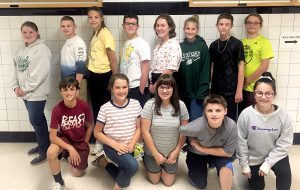 A total of 13 students from Weedsport were selected to participate in the Jr. High Band at the Cayuga County Music Educators Association Fall All-County Music Festival from Nov. 22-23 in Auburn.
The students include:
Keegan Montreal – Flute
Jasmine Nguyen – Flute
Evan Growney – Clarinet
Adrihanna Collins – Clarinet
Kylie Hill – Alto Sax
Kaiden Eipp – Alto Sax
Dexter Barnhardt – Alto Sax
Colleen O'Neil – Trumpet
Jack Hopkins – Trumpet
Mackenzie Crytzer-Shurant – Trombone
Nolan Carner – Percussion
Abigail Wilder – Percussion
Foster Smith – Percussion
Music teachers select students to perform based on previous music accomplishments and scores at competitions sponsored by the New York State School Music Association. Each year, the festival visits different districts and features guest conductors.