Work on the $100,000 project for 2018-19 – which included auditorium work Weedsport Jr.-Sr. High School – is complete. The work included new carpeting on the runways and pit band area, and painting beneath the seats and the part of the theater stage in front of the curtain. 
For the last eight years, the district has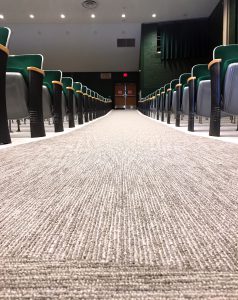 conducted a project and included it in the school budget.
The $100,000 project for 2019-20 includes creating a digital production classroom at the Jr.-Sr. high school.
The New York State Education Department allows a district to receive aid on capital expenses for projects that are funded with capital outlay that has a total cost of no more than $100,001.
Previous $100,000 projects have included:
2017-18: New driveway asphalt at the Jr.-Sr. high school and a new entryway.
2016-17: A new playground shade structure and brick maintenance at the elementary school.