Please scroll down for reopening information. For details on Remote Learning, please scroll down and see the information in the right column.
COVID-19 Symptom Flow Chart
Please see the chart below.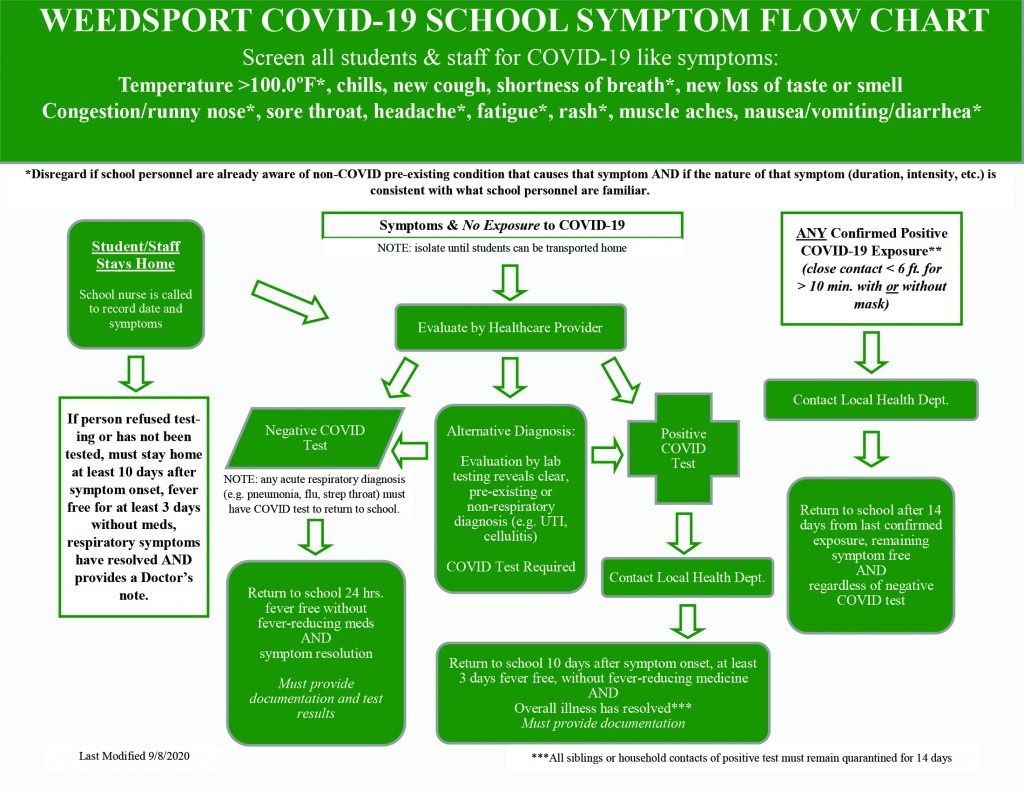 Aug. 24: Parent Forum recordings
Aug. 14: Remote learning, COVID-19 testing and contact tracing part of reopening plan
Gov. Andrew Cuomo stated that districts are required to post the specific elements of their reopening plans that deal with remote learning, COVID-19 testing and contact tracing protocols, and that the remote learning plans must directly address equity considerations. See those parts of the plan here.
District to address reopening questions from community in online sessions Aug. 18-20
Weedsport plans to host three sessions involving parents, community members, and stakeholders in an online format to address questions regarding the district's reopening plans. See the news story for dates and details.
Aug. 11 Update: Reopening plan snapshot for parents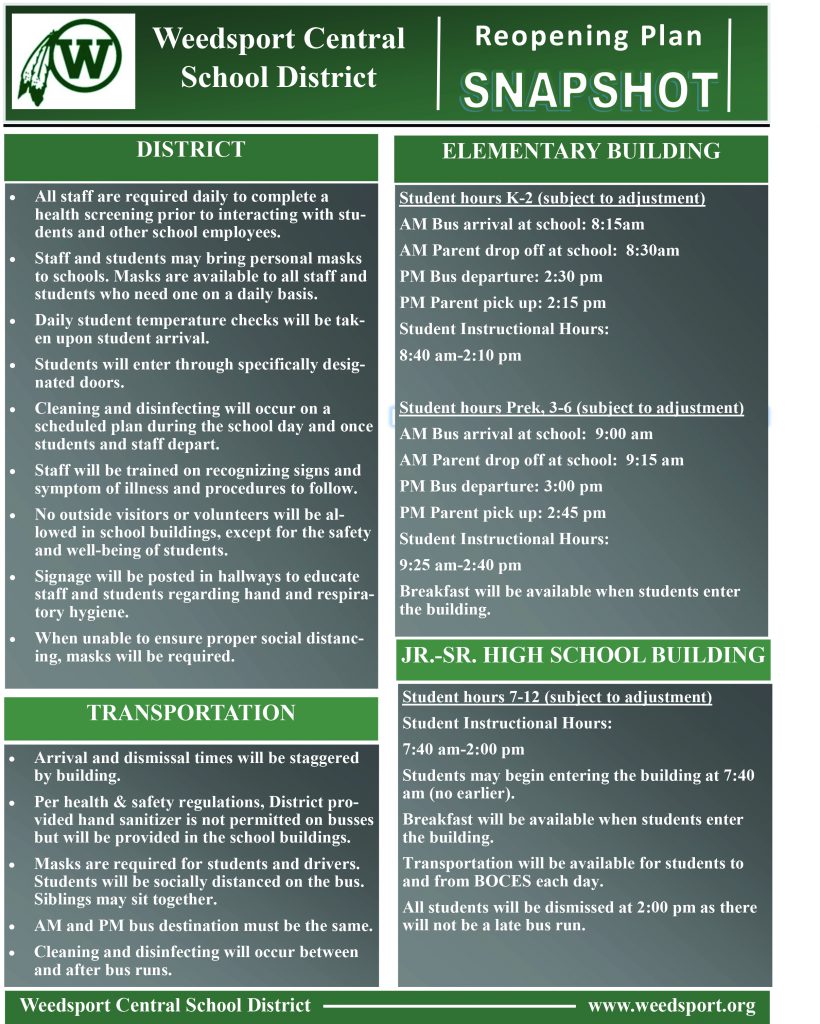 August 7: Update
The following information will be part of  reopening in September.
1. On the school bus, members of the same household may be seated within 6 feet of each other. Parents and legal guardians are encouraged to drop off or walk students to school to reduce density on buses.
2. Students that are of no relation will be seated in alternating seats throughout the bus maintaining the 6 feet social distancing space.
3. During lunch, for students onsite, meals will be provided in the classroom while maintaining appropriate social distancing. Students do not need to wear face coverings when seated and eating so long as they are appropriately socially distanced. No meals will be served in the same common area.
4. For offsite students who are learning remotely, meals will be available for pick up at the school daily.
5. The District will ensure adherence to hygiene and cleaning and disinfection requirements as advised by the CDC and DOH. Cleaning and disinfection logs will be maintained. 
July 29: Update
The following information will be part of  reopening in September.
1. No outside visitors or volunteers will be allowed in school buildings, except for the safety and well-being of students. Parents/guardians may report to the reception area but not go beyond unless it is for the safety or well-being of their child.
2. The District cannot provide hand sanitizer on the school bus.
3. The Elementary School playground is allowed to be opened in September and a cleaning of the high touch areas of the equipment will occur daily.
4. The social distancing guideline for aerobic activities in Physical Education classes is 12 feet.
5. When the BOCES reopens along with our District, high school students will attend their Career and Technical Education classes.
July 31: School Reopening Plan submitted to the state
To see the Weedsport reopening plan, click here.
July 30 Update: Preliminary Reopening Schedule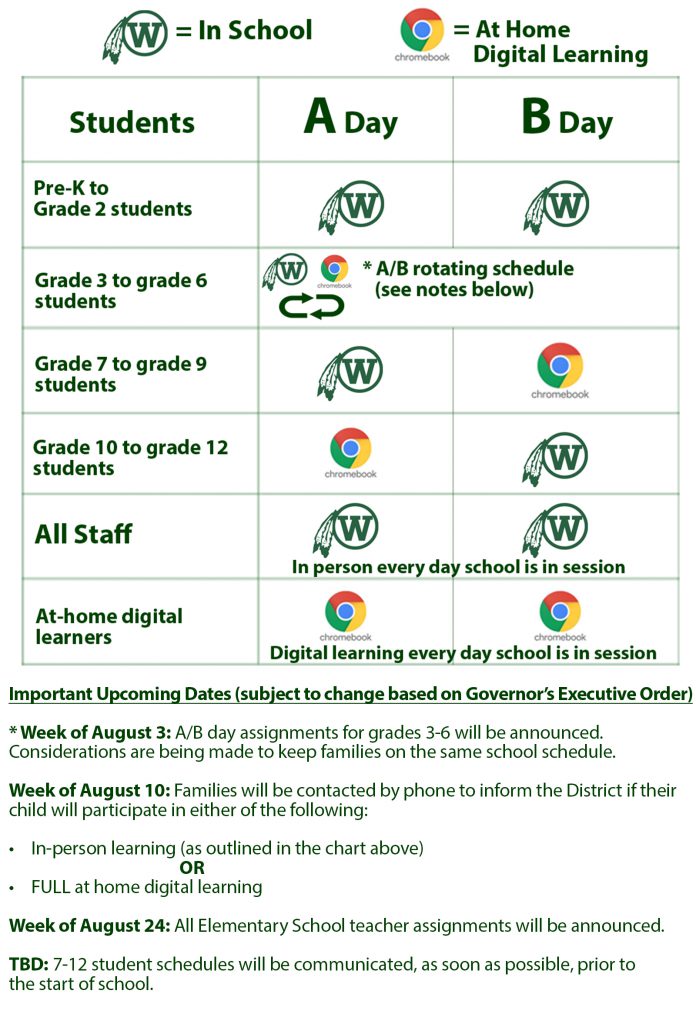 July 29: Update
The following information to be part of the reopening plan:
Hand sanitizer will be available to all in classrooms and commonly occupied areas.
Cleaning and disinfecting will occur on a scheduled plan during the school day and once students and staff depart.
Signage will be posted in hallways to educate staff and students regarding hand and respiratory hygiene.
Other than when students are seated at their desks, masks will be required.
All staff are required daily to complete a health screening prior to interacting with students and other school employees.
July 27: Update
The Weedsport Central School District is working to develop reopening plans for the 2020-21 school year in compliance with state guidance. Like all districts in the state, Weedsport must develop a written reopening plan. The details of these plans will be different for each district, but Weedsport is required to follow guidelines from the New York State Education Department (NYSED) and interim guidance from the New York State Department of Health (NYSDOH). Plans are due to the state by July 31.
District leaders are looking from input from key stakeholders and have reached out to staff and parents through a survey.
"Additionally, the administrative team is reaching out to our key internal allies from all departments (custodial, technology, health, counselors, food service, transportation, and faculty) to have them reflect on the NYSED and NYSDOH guidelines for reopening, and engage in a collaborative thought process. Given that input and the results derived from our surveys of staff and parents, we will be able to develop a foundational plan with corners that will need to be smoothed out in August," said superintendent Shaun O'Connor.
"We want to make these key stakeholders part of the process. We expect to use this inclusive approach to create a structure we can implement in September."
Over the next few weeks, district leaders will provide essential, ongoing information to the school community regarding reopening. The information will be brief in nature and most will be pulled from the mandatory guidelines provided by either the NYSED or NYSDOH and will be embedded in the reopening plan.
O'Connor said, "Our intent is to inform and not alarm. The aim is to be transparent and provide insight into what our educational stakeholders can expect school to "look like" in the fall.
One can expect the following information to be part of the reopening plan:
1. Students will be required to wear masks on school buses.
2. If a student does not have a mask, one will be provided to the student each week.
3. Once seated in the classroom and with social distancing in place, students can remove masks.
4. Parents are asked to check the child's temperature at home prior to arriving at school.
5. Additionally, students will have their temperatures checked with a non-contact thermometer upon entering school daily.
Look for more of this type of information to be shared in the upcoming days and weeks ahead.